Posted on : 16-Jul-2011 | By : admin | In :
Show all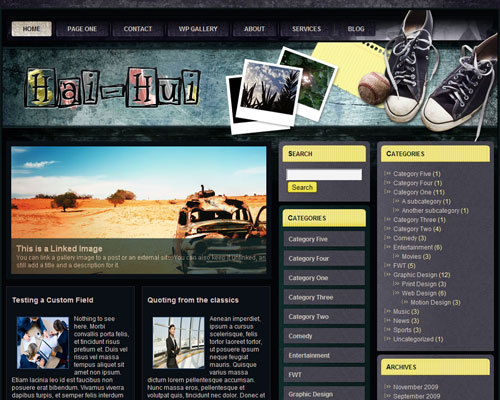 A grunge flexible travel / leisure WordPress Magazine with lots of options and page templates to chose from.
Features:
* site?s layout (blog vs magazine with 5 magazine layouts ? Hover over the HOME menu item on the demo page to see the subpages with the magazine layout samples?, all fully customizable, to chose from).
* The user can choose whether to have a slideshow or not, the length of the blog post, the height of the post blocks, the size of the thumbnails, the number of the posts on each page, the categories the posts belong to.
* Much more, the user is not limited to only one magazine layout per site, he can have one magazine layout for the homepage let?s say and another on the archive (or he can use all 5 on various pages if so desires).
* other page templates are available too (wide page, page with posts, simple FAQ page, and 3 sitemap templates).
* the header image can be easily changed to one of the users choice in the options page.
* Also he can change the logo, or use dynamic text (the blog?s title and description) and add a widget to the right size of the header. The widget can have the size the user desires and it can be filled through the Widgets section in the WP Dashboard with whatever the user desires).
* the footer can be simple or widgetized, containing up to 4 widgeted areas.
* the theme is shortcodes ready (up to 40 shortcodes ready to be used for even further customization).
* WP 3.0 compatible features: custom navigations, custom background, custom header.
All the above are set in the options page, no need to touch the theme?s code.
See the readme file included in the theme?s folder for a quick guide on how to setup your theme.

Need help? Contact us